HOT DATES!

SAVE THE DATES





Pro-Life Annual March & Rally




Jan 24, 2010





Spring Banquet




March 6, 2010




You're not alone!
Talk to other Pro-lifers in Arizona LIVE, RIGHT NOW!





Greetings!

We would like to extend a sincere

THANK YOU

to all of you who responded so generously to our urgent plea for emergency funds to help cover our operational expenses and taxes. We are very grateful for your confidence in our daily life-saving efforts.



Three unexpected gifts came from impromptu fundraising events: Xavier College Prep donated a portion of

Eric Genuis

concert proceeds to AZ Right to Life. Then our own Secretary of the AZ Right to Life Board

Rachel Alexander

made arrangements with the pro-life networking group

Politics on the Rocks

to donate p

roceeds from a recent wine-tasting event (See event photos). We also appreciate the

Chandler Knights of Columbus

allowing Education Director Melanie Pritchard and Program Specialist Teddy Sifert to give a BabySay presentation to their members. We are thankful for a generous gift that came from an attendee.

But our work is not done. A National travesty is about to occur.






Pelosi ramming abortion through Congress!


House Speaker Nancy Pelosi has offered a new version of ObamaCare before Congress and we need your help to put the word out before THIS WEDNESDAY'S VOTE! CLICK HERE to call the pro-abortion Congressional Delegation from Arizona and tell them to "Oppose the Rule on HR 3962 if the Stupak-Pitts amendment to remove abortion funding is not allowed." Ask them to support the pro-life Stupak-Pitts amendment if a vote on it is allowed by Pelosi. If the amendment fails, ask your Representative to oppose final passage of the bill!


Life @ the Fair--AZ Right to Life Volunteers change hearts, minds




Phoenix, AZ--Oct. 16-Nov. 8 -

With a volunteer list over 1000-deep, AZ Right to Life staffed our booth for three weeks with over 180 volunteers from all over the Valley.

With so many positive pro-life experiences, it would be impossible to print all the heart-warming experiences our volunteers had, but a picture speaks a thousand words. View an album of photos!








Phoenix, AZ--Oct. 2

- Sixty junior high students from Christ Lutheran School learned from Education Director

Melanie Pritchard

as she spoke about the dignity and value of life throughout the first week of October. Melanie brought in special guest speaker, rap artist

Brandon "The Rep" Kagel

, who rapped "Unborn Child" for the audience (Listen to it here). The students were in awe as he rapped what might be the thoughts and feelings of an unborn child facing an abortion.




St. Louis, MO--Oct 8

- Pritchard flew to Missouri to conduct the five-hour AZRTL Leadership Training Seminar

Abortion: Inside the Choice

where she spoke to 200 students from the Archdiocese of St. Louis. After the seminar, event coordinator

Sh
elly Fravala

said, "The students really enjoyed the conference. Overall, I had great feedback. The students had so much to think about, and they were chomping at the bit for more!"



Phoenix, AZ--Oct 23

- A few weeks later, Melanie and

Rosa Camou

conducted the same training seminar

Abortion: Inside the Choice

at Xavier College Prep in Phoenix where 60 Xavier and Brophy College Prep students were given the tools necessary to successfully dialogue about abortion. Xavier student

Olivia Both

commented to Melanie that her friend came to the training with her and was on the fence about abortion in cases of rape, but the training helped her to see the truth of the matter, and her friend said she is now pro-life. Xavier Students for Life president

Caitlyn O'Sullivan

said, "The training equipped me with the necessary tools to face society. The speakers were engaging, and the girls loved it."

To obtain a copy of the Leadership Training Seminar and the documentary

Abortion: Inside the Choice

or to book a speaker,
email Melanie.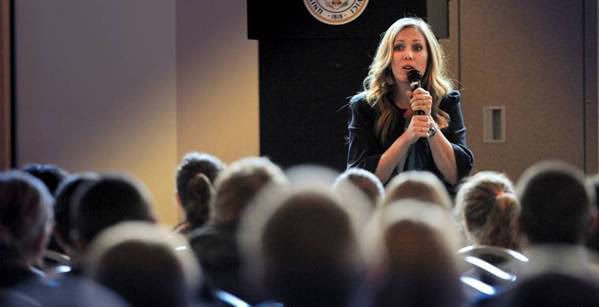 It's on! AZ Teens for Life hits 280 members, a 215% Growth in less than a month

Phoenix, AZ--Nov. 1 -

Since October 2009, Arizona Teens for Life experienced a 215% growth in membership in less than a month, from approximately 130 members to an exciting 280!

Not only has our group expanded in size, but we've also expanded our geographic area, welcoming several teens from as far as Tucson, and we look forward to soon seeing our membership expand all across the state! Our most important advance, though, is in our passion for life. As we become more involved with each other and for our cause, we realize more than ever before how important these life issues are, and we grow in our sense of responsibility and desire to be even more active in the fight for life.


A major effort (and success) this past month was our

Teen Tuesdays

in support of the Fall 40 Days For Life campaign. Each of the five consecutive Tuesday events was well attended by an average of 25 teens and family members and received generally positive feedback from passing traffic, including countless HFLs ("Honks For Life") from passing firetrucks and ambulances! Teens who attended the events were able to meet people who were amazed at the age and enthusiasm of the members of AZT4L, some as young as eleven years old, who stood outside Planned Parenthood by their own choice because they knew what kind of impact their presence could make. Although

Teen Tuesdays

are over for 40DFL, we plan to host one each month until the 40 Days for Life campaign resumes in the Spring. If you're interested in participating, please email us so we can keep you updated on times and locations.

Plans are now underway for the AZT4L trip to Washington, DC for the March for Life in January, 2010. VP Randi Yeager has put special effort into researching and planning the DC trip and is asking anyone interested in going with our group to email us by Friday, November 6! Parent chaparones are specially invited also. If you or someone you know is interested in coming with us for this memorable and life-affirming adventure, please let us know!

For more info or to join our group, please email us, visit our website at www.azteens4life.org, and join our social network on NING




About the author

: Sixteen year-old Mary Patterson founded AZ Teens for Life in July 2009.

AZRTL Chapters are Essential to Our Success!




Contact a local chapter leader to find out how to get involved in your community.



Chandler Paul & Marie Fordtner
Mesa Joe & Virginia Perron


Sun City West John Bertaut
Tempe Duane Campbell
Tucson Central SW Sunny Turner
Tucson NE Ann Downey
Wickenburg Kari Froelicher
Southwest (Litchfield Park) Eddie Zuleger