Phoenix, AZ
- Nov. 17, 2009 -
Known to her friends as "Cheka," 21 year-old US Army Pvt.
Francheska Velez
was over three-months pregnant when she was gunned down while signing maternity papers at Fort Hood on Nov. 5.
Along with 12 fellow soldiers and one civilian employee, Velez and her preborn baby boy were killed by Army Major Nadal Hasan in the deadly Fort Hood massacre. Arizona Right to Life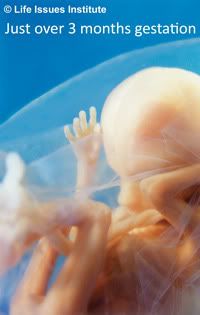 president
Jinny Perron
said, "Anyone who murders a pregnant woman should be charged with the killing of two human beings."
The Arizona Life Times reported in the
October issue
that Maricopa County Attorney
Andrew Thomas
charged a Phoenix man with two counts of murder for killing a pregnant woman
.
No official reports have been made as to whether federal, state, or Army prosecutors will add the preborn baby of Francheska Velez to the list of charges brought against Hasan, but last week attorneys at Scottsdale-based Alliance Defense Fund
urged the Fort Hood Office of Staff Judge Advocate
to charge Maj. Hasan with all 14 counts of premeditated murder.

###

--Help us educate Arizona on life issues affecting our state!

Arizona Right to Life
602-285-0063
A non-sectarian, non-partisan, non-profit, 501(c)4 organization, Arizona Right to Life is committed to articulating and protecting the right to life of all human beings, born and unborn. This is accomplished by educating people on the value of every human life and by promoting and supporting pro-life legislation, public policy and elected officials. Arizona Right to Life is the oldest, largest and strongest pro-life organization in the State of Arizona.