Dear Friend of Life,

As the New Year begins we certainly have many challenges ahead, but these challenges also come with unexpected promise. With the ascendancy of our new pro-life Secretary of State Jan Brewer to the position of Governor we now have an unprecedented opportunity to advance the cause of life in our state. We should remember this as we march and commemorate the tragedy of
Roe v Wade
this January.
Saying Goodbye to Trent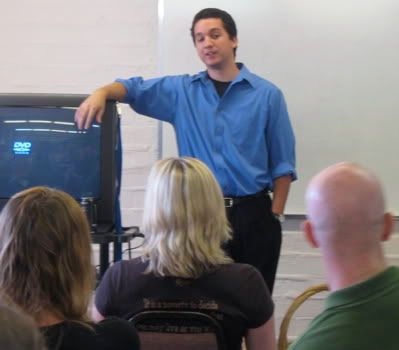 This January marks the end of Trent Horn's nearly two-year service with Arizona Right to Life as our Programs Manager. This spring he will be moving to Wichita, Kansas to join Justice for All, a national pro-life organization whose mission is to
train thousands to make abortion unthinkable for millions, one person at a time.
Trent was instrumental in developing new ideas and programs that have allowed us to grow and flourish as an organization. He created the documentary
Abortion: Inside the Choice
and co-authored it's accompanying Pro-life Leader Training Seminar that we use to support and educate local pro-life groups. He was also the author of the online and print editions of the Arizona Life Times as well as a valuable addition to countless other events and projects.
While we are sad to see him leave, we wish Trent well as he uses his gifts and talents to build up the pro-life movement across the nation. If you would like to wish him well in this exciting new endeavor you can send him an email at azrtl@azrtl.org that we will forward to him.
Two Big Events, One Bigger Mission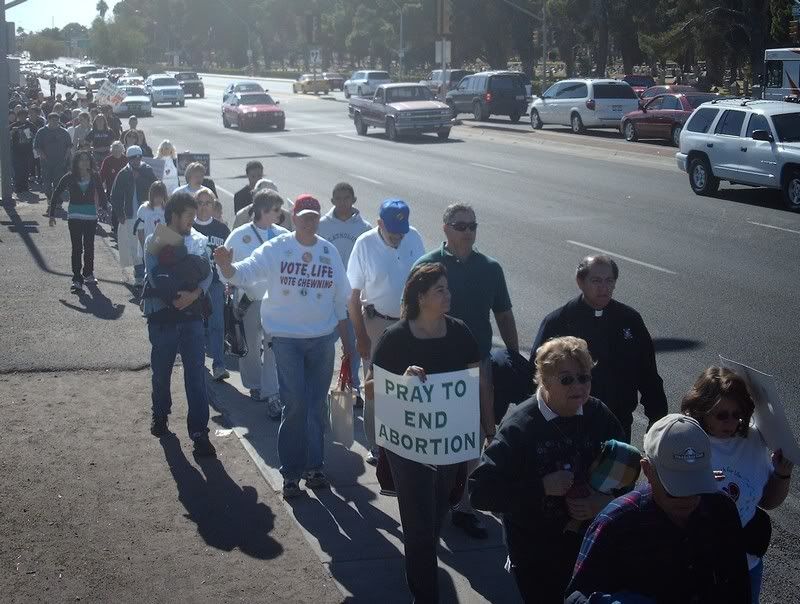 Arizona Right to Life will be commemorating the 36th anniversary of

Roe v Wade

in two big ways throughout our state. First in Phoenix, The 2009 Arizona March and Rally for Life will begin at 5:00 p.m. on Thursday, January 22nd as we march on the front lines of the Tempe Planned Parenthood abortion facility (1250 E Apache Blvd Ste 108, Tempe, AZ 85281). Immediately following, we will gather at Arizona State University's Hayden Lawn. A pro-life concert will begin at 6:15 p.m. followed by an evening rally at 7:00 p.m.

In Tucson on Saturday, January 17th the Mass for Life will be held at St. Augustine's Cathedral at 9:00am followed by a march to Holy Hope Cemetery for a memorial service at 12:30pm.

For information related to the Phoenix event visit www.azliferally.com or call 602-285-0063. For the Tucson event visit www.tucsonmarchforlife.org or call Kelly Copeland at 520-818-9765.

Promoting Bilingual

Pro-life Outreach
On December 9th and 10th AZRTL Programs Manager Trent Horn and Life Educational Corp. Assistant Rosa Camou premiered our pro-life documentary

Abortion: Inside the Choice

to the adult catechesis services at St. Joan of Arc parish in Phoenix. For this group a special version of the documentary with Spanish-language subtitles was shown and Trent and Rosa delivered inspirational talks in both Spanish and English. St. Joan of Arc's Director of Evangelization and Catechesis Michael Garibaldi said, "The parents showed an interest in this that is far greater than anything we have ever done before. The documentary was amazing and Trent and Rosa did a great job. I highly recommend them for any church or youth group that wants to deepen their pro-life commitment."

If you would like a presentation at your church please contact Education Director Melanie Pritchard at Melanie.lec@gmail.com.

Other News and Updates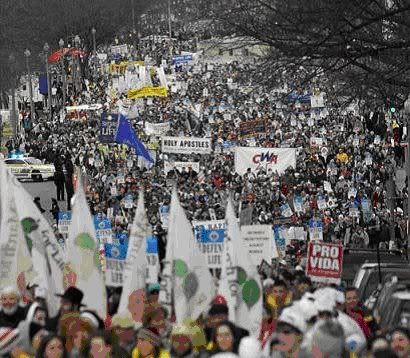 MARCH FOR LIFE: On January 22, 2009 over 200,000 pro-lifers are expected to gather and march on Washington in the annual March for Life. This event, which has been hosted since 1974, is designed to bring awareness to our nation's capitol that the pro-life movement is resolved and determined to end legalized abortion in America. The event is also a great place for pro-lifers to show solidarity with one another and plan future pro-life events and strategy. For more information visit the March for Life's Website.

PRO-ABORTION PLANS: Several leading pro-abortion organizations like Planned Parenthood gave the incoming Presidential Administration their "marching orders" for the New Year. To learn more, see this National Right to Life article.

AZRTL NW TALK: On December 8th Programs Manager Trent Horn gave a talk entitled "When Does Life Begin?" to the AZRTL NW Chapter in Sun City West. Chapter president John Bertaut said that the talk was "excellent" and numerous attendees were impressed with Trent's mastery of the subject. After the talk, Trent and the attendees engaged in a lively question and answer session and brainstormed for future pro-life activities the chapter could organize in the coming months.

CLUB 5: Be the latest person to join "Club 5." Club 5 is our new fundraising group that combines small $5 monthly gifts from our numerous donors to make a big difference in our ability to implement pro-life projects and events. Members of Club 5 can also make a one-time donation of $60 in lieu of a $5 monthly amount. To learn more about Club 5 email us at azrtl@azrtl.org or call our office at 602-285-0063
If you would like to learn more about our mission, events, or would like to join our new financial support group "Club 5," then please email us at azrtl@azrtl.org or call our office at 602-285-0063.
Once again, thank you for your time and your commitment to being a "Friend of Life."
We wish you a happy and healthy New Year
and look forward to partnering with you to combat radical pro-abortion legislation like FOCA in the coming New Year.

Newsletter Editor: Trent Horn

Upcoming Local
Pro-life Events
36th Annual Phoenix March and Rally for Life
Thursday January 22, 2009

March will begin at 5:00pm at the Planned Parenthood abortion facility on Rural and Apache Rds.
Rally will begin at 6:15pm on Arizona State University's Hayden Lawn
For more information please visit the 2009 AZ Life Rally Website

Tucson Mass and March for Life
Saturday, January 24th 2009
Mass will begin at St. Augustine Cathedral at 9:00am and will follow with a march to Holy Hope Cemetery for a memorial service at 12:30pm.
For more information please visit the 2009 Tucson March for Life Website
Arizona Legislator's Luncheon
hosted by Arizona Right to Life and United Families of Arizona
Date: Thursday January 29, 2009
Location: Arizona State Capitol
Time: 11:00am - 2:00pm
Cost: $10 per person for lunch (complimentary lunches for our legislators) For more information contact Arizona Right to Life at 602-285-0063 or by email azrtl@azrtl.org
Save the Date: Arizona Right to Life Spring Banquet




Mark your calendars for Saturday, March 7, 2009 for the Arizona Right to Life Spring Banquet and Silent Auction at the Chaparral Suites in Scottsdale.





Invited Guests Include:


Alaska Governor Sarah Palin
Louisiana Governor Bobby Jindal
New Jersey Congressman Chris Smith



Table Hosts: Reserve Your Seating Now for Preferred Seating!


Contact Arizona Right to Life at 602-285-0063 or by email azrtl@azrtl.org for more information.




Build a Legacy of Life with Pro-life Estate Planning
Do you want your assets to continue helping the pro-life movement after your passing? Contact our office at 602-285-0063 to learn more about this exciting opportunity to help us create a Culture of Life.
FIGHT FOCA NOW!


Call Arizona Right to Life at 602-285-0063 or email us at azrtl@azrtl.org to learn how you can stop the so-called "Freedom of Choice Act." If signed into law it would repeal 35 years of pro-life legislation and create tax-payer funded abortion-on-demand. Waiting next month could be too late! Call or email us to find out how you can bring this bill down!