We're on the Web







Greetings!

Three hundred eighty-five pro-lifers attended the Arizona Right to Life 31st Annual Conference on Aug. 28-29 to learn from nationally recognized speakers whose fingers are on the pulse of the Pro-life Movement. Included among the guests were elected officials

Sheriff Joe Arpaio

,

Senators Jack Harper

and

John Huppenthal

,

Representatives John Kavanagh

and

Debbie Lesko

, Paradise Valley

Mayor Vernon Parker

, and the 2009 McWhirter Award recipient

Treasurer Dean Martin

.

We unveiled to an amazed crowd the cutting-edge touchscreen technology behind our latest educational project, BabySay™

TAKE ACTION: with ObamaCare on the way, we must make it clear that we do not want our taxes being used to pay for abortion!
Click the links to get the contact info for your Representative and Senators and urge them to say NO! to Obamacare. Email your elected officials here.




Scottsdale-Aug. 28

-- Babies will now have their "say" even before they get the chance to speak. Arizona Right to Life unveiled a partnership with the makers of the world's most advanced video screen display technology to project 3D Ultrasound videos in front of millions of people every year at various public locations in Arizona.

Rendering Plasma and LED screens all but obsolete, these new, virtually indestrucable, all-weather screens are made from a light-capturing acrylic, allowing the images to appear just as bright in broad daylight or darkness--even from behind UV-proof glass!

In one scenario, viewers are given a challenge: "Which baby belongs to these Arizona parents?" The viewer can then choose among several different videos which baby matches the parents in the photos above the video images. Once a video is selected by touch, it will ...READ MORE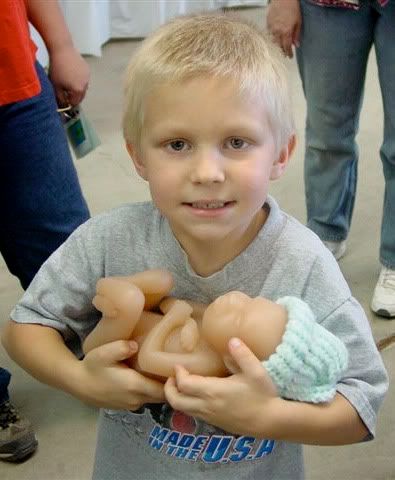 Fetal Models


"Can I hold one?" asked one five year-old boy (like the one pictured here). Education Director Melanie Pritchard brought fetal models to show homeschool families at Camelback Bible Church during a talk about the value and dignity of Life on Aug. 22nd, 2009. She uses fetal models and real images to...READ MORE



Pro-Life Leadership Training


With national exposure prompting the Archdiocese of St. Louis to invite Education Director Melanie Pritchard to train students, Pritchard and sidekick Rosa Camou packed the room at the 2009 Arizona Right to Life Conference, delivering an eye-opening pro-life leadership training that demonstrated everyone's ability to change hearts and minds with the truth when given the right tools and...READ MORE


Want to see more children learning with true-to-life fetal models?

State Treasurer Dean Martin Accepts Coveted McWhirter Award
Scottsdale, AZ--Aug 28
--Named after the co-founder of Arizona Right to Life, the
Dr. Wallace McWhirter
Award was presented to

Dean & Kerry Martin

by President
Jinny Perron
and VP
John Jakubczyk
on behalf of the Arizona Right to Life Board of Trustees.
While Dean & Kerry have a long history of pro-life activism, we reported in the
June Issue
that shortly before Dean's pregnant wife Kerry tragically passed away, she was the first person to...
...READ MORE


Dean accepts the 2009 McWhirter Award from President Jinny Perron

Panel of high-caliber speakers battle abortion, euthanasia




Real Solutions offered to change the culture from pro-death to pro-life





Scottsdale-Aug 28-29

--

Janet Porter

of Faith2Action.org delivered a keynote on the current political climate buttressed by the unprecedented experience of

Joseph Scheidler

, whose case was thrice heard by the US Supreme Court.

Alan Sears

&

Gary McCaleb

of Alliance Defense Fund acknowledged the impending legal battles for the right to life and insisted that now is the time to get involved in the fight, while

Dr. Marci Moffitt

offered life-giving alternatives to vaccines using fetal parts.

Dr. David Prentice

of Family Research Council pinpointed all the differences between the destructive and useless embryonic stem cell research and adult stem cell research that already cures over 70 diseases.

Dr. John Mark Reynolds

of Biola University revealed ...READ MORE


From left: Janet Porter, Joseph Scheidler, Alan Sears, Marci Moffitt, David Prentice