March 31, 2008 - Terri's Day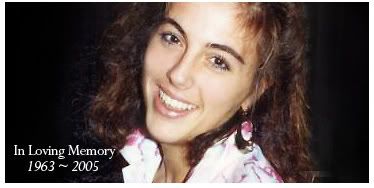 The Terri Schindler Schiavo Foundation and Priests for Life have established March 31st as Terri's Day, a day to commemorate the loss of Terri Schiavo and to raise awareness for protecting the rights of the disabled and the vulnerable in our society. Local groups in Arizona like Abundant Life Outreach and Education, or A.L.O.E, are holding prayer services today in memory of Terri. We encourage everyone to visit the following websites to learn more about Terri's struggle, as well to find out how you can make an active difference in the fight for life.
Terri Schindler Schiavo Foundation - The mission of the Terri Schindler Schiavo Foundation is to develop a national network of resources and support for the medically-dependent, persons with disabilities, and the incapacitated who are in or potentially facing life-threatening situations.
Priests for Life - The mission of Priests for Life is to assist clergy and laity to work together productively for the cause of life and to provide ongoing training and motivation to the entire pro-life movement.

In addition to these resources, Arizona Right to Life offers a free advanced healthcare directive for download on our website to help you clarify what medical care you want to receive should you become incapacitated like Terri. We hope that through our efforts and collaboration with other pro-life groups, human beings in the future will not face discrimination because they can't function in a certain way, but will instead receive the medical treatment and dignity they deserve simply because they are human beings.

For more information contact:


Arizona Right to Life - 602-285-0063