Internet Edition

August 2008

Dear Friend of Life,

The sweltering heat of summer has not kept us from diligently defending innocent human life. We especially want to thank the volunteers who staffed our booth at the AZ Homeschool Expo on July 18th and 19th. After a successful pro-life booth and "Culture of Life" concert last month, we look forward to our upcoming state conference and election season as opportunities to foster a respect for life in our local, state, and national communities.

In This Issue
Political Endorsements Online
Registration Available Online For Our State Conference
40 Days to Change and Save Lives
Upcoming Events!
Political Endorsements Online

The Arizona Right to Life Political Action Committee has released its endorsements for the 2008 Arizona Primaries that will be held on September 2nd. In June the committee sent out a detailed questionnaire to every candidate for state and federal office in Arizona. Questionnaire topics included, among others, what circumstances candidates felt abortion should be legal (if ever), if physician assisted suicide or euthanasia should be legal, and whether public funds should be used to support policies that destroy innocent human life. After evaluating the candidates' answers the committee released their endorsements, which can be viewed by clicking here.

Registration Available Online For Our Annual State Conference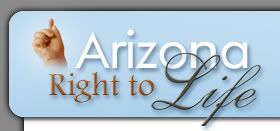 The annual Arizona Right to Life State Conference "Building a Legacy of Life . . . Empowering America's Leaders" is just one month away! The conference will feature nationally known speakers who will energize attendees with the latest strategies in the fight for life. David Bereit, the National Director of the 40 Days for Life campaign will share with us how grassroots activists from neighborhoods like yours can band together and bring down colossal abortion providers like Planned Parenthood. Canadian youth pro-life activist Stephanie Gray will be teaching us the basics of making our case in Pro-life 101 and 201 seminars and Oregon physician Dr. William Toffler will show how assisted suicide corrupts the medical profession. Our final keynote speaker Allan Parker, the attorney for the Roe of Roe v Wade, will share with us how the testimonies of women and men harmed by abortion has moved the goal of pro-life victory even closer. But we still need confirmation from our most important conference guests, you and your friends and family! Online registration is now available so click here to save your seat at what promises to be an exciting weekend of defending life. Finally, our early bird registration discount ends this Friday, August 8th so register now to get the best deal!
40 Days to Change Hearts and Save Lives
In less than 60 days the fall 40 Days for Life campaign will begin and we need volunteers to bring this life saving campaign to their local church community. 40 Days for Life is a national campaign of prayer and fasting from September 24th through November 2nd that will involve pro-lifers in over 80 cities working together to end abortion. The highlight of the campaign will be continual prayer vigils sponsored at local abortion mills. To learn more about the campaign click here to visit the 40 Days for Life website.



In particular, we are looking for individuals who want to pray at the 7th Avenue Planned Parenthood, Tempe Planned Parenthood, Tucson Planned Parenthood (contact Sunny Turner or Ann Downey at 520-908-9765 for Tucson information) and the Flagstaff Planned Parenthood. There is also a need for a coordinator who can organize churches and pro-life groups in Tempe.

Volunteers are also needed to host tables at local churches where individuals can sign up to pray in front of abortion mills. If you would like to help the campaign by hosting a table at your church, please email AZRTL Programs Manager Trent Horn at trent@arizonarighttolife.org. If you would like to host a presentation on abortion for your church to be a catalyst for the 40 Days for Life campaign, please contact Life Education Director Melanie Pritchard at Melanie.lec@gmail.com

Arizona Right to Life will release the website and contact information for local 40 days for Life groups once it becomes available.


Thank you for taking the time to read our monthly e-newsletter. If you would like to partner with us to develop new projects and continue effective ones (pro-life videos and mobile exhibits, public outreach, legislation and politician tracking, and new chapters and liaisons) then please send a donation to:
Arizona Right to Life
3700 N 24th St, Suite 100
Phoenix, AZ 85016
Thank you for taking the time to read Arizona Right to Life's monthly e-newsletter. If you would like to learn more about our mission or events please email us at azrtl@azrtl.org or call our office at 602-285-0063.
Once again, thank you for your time and your commitment to being a "Friend of Life."

Newsletter Editor: Trent Horn


Upcoming Local Pro-life Events
Mesa Right to Life Fundraiser Event
On Saturday, August 9th the Arizona Right to Life Mesa Chapter, in concert with Broadway Palm Dinner Theatre, will be hosting a dinner and production of "Honkytonk Angels." For more information please contact Joe or Jinny Perron at jjkp4life@cox.net or 480-807-2834.

Flagstaff Volunteers Needed
Arizona Right to Life will be hosting its pro-life booth at the Coconino County Fair (located at Fort Tuthill County Park) over the Labor Day weekend from Friday, August 29th through Monday, September 1st. If you would like to spend a few hours at the fair graciously greeting fairgoers who visit our booth, please email AZRTL Programs Manager Trent Horn at trent@arizonarighttolife.org

Save the Date: 36th Annual March and Rally for Life

Thursday, January 22, 2009


If you would like your pro-life events posted in our monthly newsletter, email us at trent@arizonarighttolife.org